There is a girl. She suffers great misfortune and comes from a middle-class/low-class family. Girl meets boy. Boy is rich and successful and somehow mystified by this modest girl. Boy loves girl. Boy pursues girl. They face a few troubles but live happily ever after.
It's the most simplest story in the book and surprisingly enough, it sells like hotcake. There is only one rule in the K-Dramaland and that is 'happily ever after'. I've probably only seen one drama where the ending wasn't really happy, but it was satisfying. So I suppose that works too. Either way, the rich guy-poor girl type of story line is heartwarming, filled with hope and is an escape from reality – and that's why we all love it so much.
Here are some of my favourites when it comes to those dramas-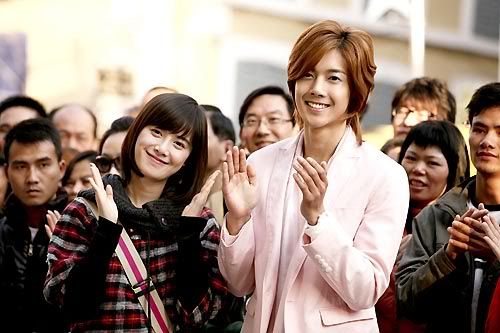 Boys Before Flowers: For most of us, this has been the gateway drama into K-Dramaland. It is the age old story of Geum Jan Di who unintentionally grabs the attention of rich brat Gu Jun Pyo. What follows is a turmoil of emotions, family trouble, and a little problem created by Jun Pyo's mother who disapproves of Jan Di's poor beginnings. Though this drama is the one that shot Lee Min Ho to fame, it's more than just a high-school drama.
What's special about BBF is that it talks about the purity of first love. That your soulmate may not always end up as your first love, is an important lesson in life and all of us learnt it with Jan Di. The idea of being saved by a knight in shining armor isn't so bad either and therefore, this drama is gold.

Falling for Innocence: I had seen this drama floating around on several 'favourites' list, but never got around to watching until one lonely summer. But, I accept, this drama is worth it's weight in gold and more. The drama follows the story of Kang Min Ho who is a self-made chaebol (but also is old money, its a long story) and is also arguably the most rude character I've ever come across. He takes personal pleasure in ruining other people's lives with his money. But Kim Soon Jung, works for him and unfortunately so, and he tries to make her life hell. After a heart surgery, where he gets Soon Jung's boyfriend's heart, he goes through an entire change of personality and discovers that this woman, can actually change his life.

Kim Soon Jung is one of my favorite female leads in all the dramas that I've watched. She is both strong and graceful. Kind and bold. It's a hard personality to master, I've tried. She shows Min Ho the meaning of love, and the little things that really matter in life. It's beautiful to see her lead this man's character growth.

Personal Preference: This one is definitely here only because I have a Lee Min Ho shaped hole in my heart. But in my defense, he pretends to be gay in this drama and it's pretty hilarious watching him try and keep up.

Jeon Jin Ho is an up and coming architect who needs access to the architectural masterpiece built by Mr. Park (which isn't up for sale or viewing) so he pretends to be gay to live in that house with, Park Gae In. Gae In is a furniture designer and the daughter of the famous architect, who doesn't seem very impressed by his daughter. Though Gae in is not an utter pauper, she definitely isn't as well off as Jin Ho. The story takes a complete twist when Gae in gets to know that her roommate isn't actually gay, and might be interested in her.

What I like about this drama is that this came out in early 2009, when homosexuality was definitely not being discussed in such comical contexts. The entire drama tends to portray homosexuality as a very acceptable thing and for a minute, I had to wonder if S. Korea was really doing far better than all other countries. But then again, it's Lee Min Ho. He has a knack for choosing good drama scripts, and this one, I definitely approve of.

She Was Pretty: If I were to choose one drama to initiate people with, it would be this one.
Park Seo Joon is one of my favourite drama actors right alongside Lee Jong Suk, Ji Sung and Lee Min Ho. Along with Hwang Jung Eum, he manages to bring a very delicate and a very emotional love story to life. Kim Hye Jin and Ji Sung Joon were childhood friends when Hye Jin was the prettiest girl in school and Sung Joon was the isolated little fat boy (I am sorry but that's just the plot). Years later, Hye Jin isn't so very pretty but Sung Joon returns as the chief editor for the 'Most' magazine that Hye Jin works for. She hides her true identity fearing that her childhood friend might not like her current appearance or economic state anymore, but finds out that Sung Joon has come back handsome-r but not a little bit nicer. So the drama continues with Hye Jin keeping an eye out for him as an employee, but eventually coming to soften up to his disgustedly childish ways of releasing his frustrations.
Did I mention the second lead is played by Siwon of Super Junior? Yeah that happens.

I love this drama for it's characters. Hwan Jung Eum certainly is the only one who can make comical characters look so loving and adorable. Even her ungraceful actions and sometimes, very un-ladylike manners, become endearing. Sung Joon's growth as a character and how he battles with his current and old self, is also pretty interesting to watch.

Warm and Cozy: Look now, I could very well add another Lee Min Ho drama or a Ji Sung drama, but so many people out there are singing their praises. I want you to discover stories that have great plotlines and different actors in them. Warm and Cozy is about Baek Gun Woo, a third generation chaebol, and Lee Jung Joo, a bit of a barely-surviving-in-seoul woman. Gun Woo and Jung Joo leave the throngs of Seoul for different reasons, but meet again in Jeju Island. Fondly called the 'Jeju Gatsby' this drama is thankfully, nothing like the great gatsby. Nobody dies. Gun Woo isn't a weirdo pretending to be a rich man. He really is rich, and very high and mighty, which is something that comes with the wealth really. But he is compelled to work with Jung Joo to save his restaurant and learns a little something about the value of money, and the precious nature of love.

This was definitely something unlike the dramas I have watched. This might be the only drama on this list which will truly surprise you with the moments it throws at you. I personally am a countryside girl, and the drama portrays the beauty and serenity of a small town island life that one doesn't get to see.
Though that was a very short list, there are more dramas out there that bring the overly used trope to life. I only tried to bring you some unique ones.
Honorable mentions: Fated to Love you, Cinderella and the Four Knights (currently airing), A Gentleman's Dignity, Because It's the first time, Cheese in the Trap and Oh My Venus.