You know that myth about 7 people out there in the world who probably look like you? We aren't such ardent believers in that myth yet, but we know for sure that these celebrities definitely look alike. Creepily enough. Some times, they look alike so much that their own fandoms mistake one for the other!
f(x)'s Amber and SHINee's Jonghyun
To have doppelgangers in the same entertainment company? That's a bit creepy yeah? But f(x)'s Amber and SHINee's Jonghyun have the same egg faced shape with a long big nose and similar eyes. It's really hard to tell them apart, especially if they have the same haircut!
Rain and 2PM's Junho
We are the sure the HOTTEST have heard this one far too often! 2PM's Junho has often been called out, in fan meetings especially, for looking an awful lot like the veteran actor and JYP singer, Rain. Maybe it's because both of them have half-moon eyes when they smile?
Big Bang's Daesung and K.WILL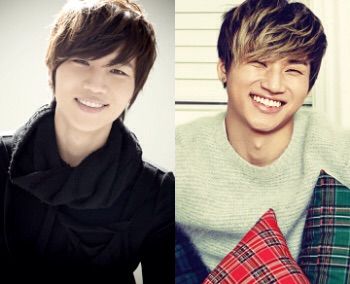 Another creepy look-alike that came up mostly because of their eyes and their hair. Is their talented vocal cords part of this twin-deal too?
2PM's Nickhun and Moon Geum Young
You thought this doppleganger thing was restricted by gender? No way! 2PM Nickhun's beautifully large eyes and kind smile resemble Moon Geum Young's, and they're so similar that we'd totally believe it if they were related by blood!
Park Shin Hye and Miss A's Suzy
Honestly, isn't it their smile that makes them so similar and so cute? Take a step further from your screen and maybe you'll think they're the same person after all!
SNSD's Yoona and f(x)'s Kyrstal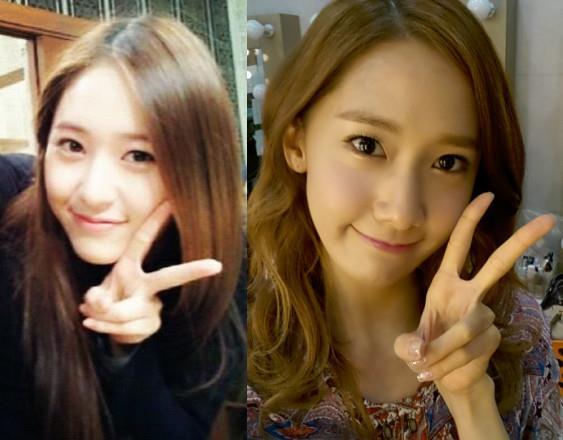 Another doppleganger set from the same company! Yoona's pure girl-next-door looks really do look creeiply similar to Krystal's shy smiles and soft look. Don't you think so?
BTS's Taehyung and EXO's Baekhyun
These two look-alike idols even met backstage to show us proof, that they really are twins. Isn't that too much cuteness for one picture?
Han Ga in and ZE:A's Dongjun
Though one is a girl and the other, a boy, they do look very similar! Their deer-like eyes and lifted nose truly resemble each other.
BTS's Suga and Seventeen's Woozi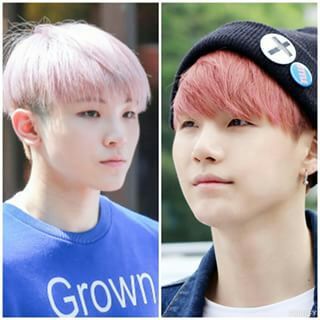 This has caused so much love between the fandoms, it had to be mentioned. BTS's Suga's almost boyish looks are very similar to Sevnteen's Woozi.
N'UEST Ren and Seventeen's Jeonghan
Two flower boys from the same company, they've been rocking the long hair look for a while now, and we have to say – it's eerily the same.
Did you like this sort of post? Which pair of K-Celebrities look alikes surprised you the most?