WARNING: Since it is a review of a finished kdrama, there will be spoilers ahead.
Moon Lovers: Scarlet Heart Goryeo released it's finale episode on November 1st. The most anticipated SBS Oct-Nov drama, ended with single-digit ratings in its home country but received international acclaim and popularity. The real question is, how was it as a kdrama?
Moon Lovers: Scarlet Heart Ryeo is a re-make of the Chinese drama of the same name Moon Lovers, which was inspired by 2005 Chinese novel Bu Bu Jing Xin written by Tong Ha. The Korean remake was widely anticipated for it's star-studded cast and high production cost of over 13 Million dollars.
Truly, the cast is worth the international acclaim. The 13 princes were played by –
Lee Joon Ki (4th Prince Wang So),
Kang Ha Naeul (8th prince Wang Wook),
Hong Jong Hyun (3rd prince Wang Yo),
Kim San Ho (Crown prince Wang Mu),
Byun Baekhyun (10th prince Wang Eun),
Nam Joo Hyuk (1th prince Baek-Ah),
Ji Soo (14th prince Wang Jung)
and IU (Hae Soo)
The drama also has a brilliant supporting cast such as Z.Hera (who played Wang Eun's wife), Park Ji Young (Empress Yoo), Jung Kyung Soon, Kang Han Na and Kim Sung Kyun to name a few. Clearly, the list of characters to analyse and understand in this drama were far too many.
The plot of the drama revolves around Hae Soo/Ha Jin (IU) who accidentally time travels back to Goryeo era after a near-death experience. She finds herself in the body of her previous incarnation, Hae Soo, and soon continues life in the Goryeo era as the cousin of Wang Wook. She is slowly introduced to all the princes, and becomes close with them, and eventually gets tied up in the twisted relationships of the palace.
The drama tactfully explores the evil and decadent nature of relationships in the palace. When you have a powerful position such as the King, on the line, it is easy to throw away people you once loved in the name of power. King Taejo stands as a example to his kids, that the position of a king only warrants pain and sacrifice. In the name of protecting his powerful position, he had several wives from different powerful families of the nation. This only warranted unneeded competition between the brothers, when the king died.
Hae Soo unwittingly becomes the central character, in what seems to be bloody fight to become the next king. She is tricked and blamed for the death of the crown prince, and influences the ambition that Wook and So had kept hidden from themselves for so long. Hae Soo ends up blaming herself for all of the gory deaths and fights that occur in the palace, and we are left to wonder if it isn't justified. Truly, Hae Soo was the cardinal character in the story and even if its cringe-worthy to say so, this drama's universe truly did revolve around her.
Personally, I was very impressed with the plot. As a viewer, it always kept me interested and wanting more. Every week, I looked forward to a new installment of the series and was always left with more curiosity to see the episodes of the next week. Sure, this drama definitely threw some curve balls which resulted in severe heartbreak, but it was integral to the story. Some elements and characters, however, did not receive their worth of character development or screen time. Chae Ryeon and Wang Won, were two such characters who deserved more.
Wang So vs Wang Wook is a very strong aspect of the show. The fact that these two were mirrors of each other, was always very clear. Both Wook and So come from strong families in Goryeo. However, they have a different form of upbringing and the love that they received from their parents, also differs. While Wook was absolutely loved and cherished by his mother, Queen Yoo detested and pushed away So from a young age. While So festers a great hatred for the throne and the king on it, Wook sees the throne as something that is important but not of interest. He also held great loyalty and love for the king, as his father first and then as a monarch. But these differences, are the reason that led to their ruin. In the end, both of them were torn apart from their set-out character types because of Hae Soo.
So eventually gains confidence in his skills because of Hae Soo's belief in him, and sees himself as the next king. Scared at the prospect of losing his love, Wook comes up with evil and sometimes downright dirty parlour tricks to stop So's ascension to the throne. What follows, is the most historically dramatic blood fest to attain the throne.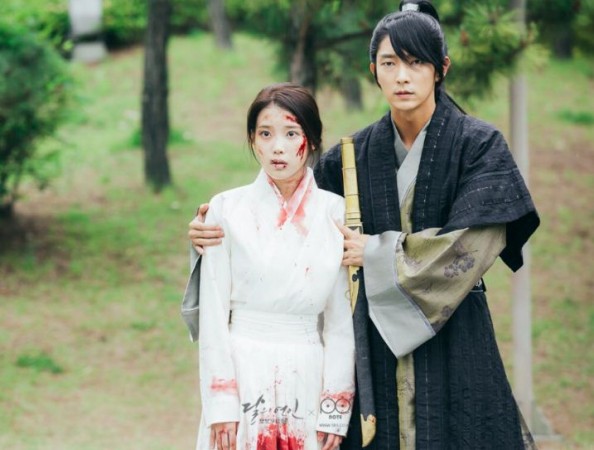 Though the plotline and characters definitely deserve an analytical post of their own, the drama has other jewels to redeem it. IU and Joon Ki's acting, was on a whole new level. Though the both of them have already made a name for themselves as influential and emotional actors, they have greatly outdone their previous scores with their portrayal of Hae Soo and Wang So. So's complex and twisted emotions were a perfect match for someone with Joon Ki's caliber. I was severely impressed with Baekhyun's acting in his death scene. To expect such complexity and versatility from such a young actor, would be too much greed. But pit against his elders in the game, Baekhyun definitely brought out his best set of skills.
The design of the set, and the direction of the drama was also brilliant. Though the set was overly used by the end of the drama, and definitely needed more change, it was filled with detail. You can clearly see all the work that has gone into the making of this drama.
Moon Lovers' OST is very emotional. With artists such as AKMU, Lee Hi, Epik High, I.O.I and EXO lending their voice for the OST – it's a surprise if this drama doesn't win some wards of it's own. The music on this drama is dangerous. Beware, it will bring out some tears by the end of the last episode. A song you should definitely buy/download would be 'Can You Hear My Heart' by Lee Hi and Epik High.
Overall, I think we've already seen the best historical drama of the year. In terms of acting, production scale and OST, this was definitely SBS's best. Considering that KBS and tvN have been coming up with some of their best dramas like Love in the Moonlight and The K2, I think SBS has already stated it's stand.
If you're into riveting plots that make you want to change history, Moon Lovers is the drama for you.
What do you think? Are you eagerly waiting for a Season 2?